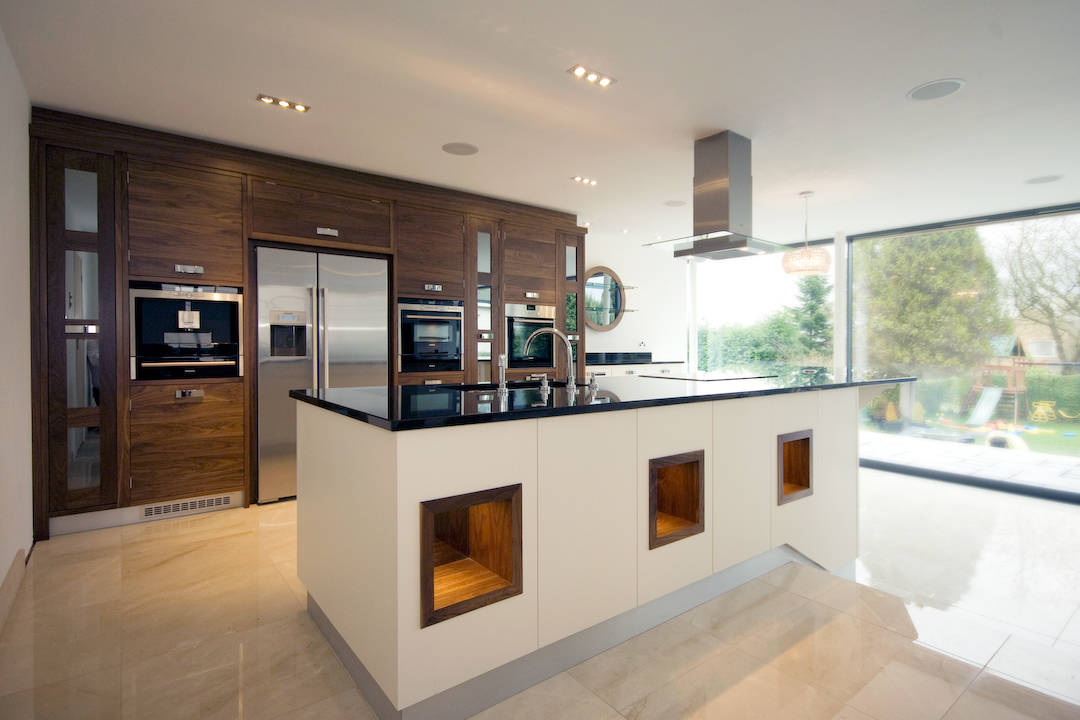 Bespoke kitchens, furniture and interiors in Harrogate
Inglish Design was created in 2007. It is a company which illustrates experience, skill and a passion for creating the very best bespoke kitchens, bedrooms, furniture and unique interiors . Since 2007 Inglish Design  has won many awards for design and customer service, making the company the leading bespoke kitchen, bedroom and furniture manufacturer in Yorkshire and beyond. Inglish Design manufacture and install everything they supply, so this means we can offer our clients a diverse and truly bespoke solution for any room in their home.
Susan is a qualified interior designer with many years industry experience in all sorts of design. Since achieving a BA (Hons) in Interior Design at University in Edinburgh, her work has covered a wide variety of both private and commercial interior projects.  Susan is a specialist in bespoke kitchen and furniture design, winning many awards for kitchen design and with vast experience of the industry. Susan has also worked on hotel refurbishments, office design,  graphic design, visual merchandising, and window dressing within the retail sector, as well as also being a highly successful retail manager. Creating bespoke kitchen and furniture solutions for Inglish Design, often involves Susan working on full house projects,  including designing ranges of furniture for private homes and full turn key interior design services. With her experience of  interior design, space planning and project management, Inglish Design can offer their clients a completely bespoke service.  The interior design service at Inglish Design is lead by Susan who has established a portfolio of bespoke products and services all based on the understanding that whether large or small, projects are treated with the same level of integrity and dedication. Susan has a huge passion for design, an eye for detail, and alongside her retail management experience, has a strong belief in excellent customer service. This enables the Inglish Design team to be at the forefront of kitchen, bespoke furniture and interior design services in Harrogate, Yorkshire, and working also in other areas in the UK when required.
Graham is a highly skilled cabinetmaker. As part of his furniture making apprenticeship Graham attended Leeds College of Art and Design where he achieved several distinctions.  Graham has now been making bespoke furniture for over 20 years, and today he leads the cabinetmakers at Inglish Design. Graham works alongside The North Lancs Training Group who provide in house recognised qualifications for our apprentices. Graham has used his experience in the industry to establish strong links with the best suppliers of high quality timber, sheet materials, finishes and fittings. His attention to detail allows Inglish Design to offer their clients the very best kitchen and furniture manfucturing solutions. Graham also leads our installation team and oversees every job to ensure the very highest standards.
Rob  is a talented cabinetmaker, with many years of industry experience. He enjoys all aspects of  bespoke cabinetmaking, and has exceptional attention to detail. As such Rob is one of our key team members.
Jacob  joined Inglish Design with a degree in design and experience of furniture design. Jacob has trained as a cabinet maker with Inglish Design and is now a strong member of our team. Jacob still has a keen interest in furniture design, and is developing many unique pieces.
Apprentices are an important part of our team at Inglish Design working with our lead cabinetmakers. Apprenticeships are carried out via a national organisation which is recognised for its courses. We are always looking for keen apprentices, so if you are interested please send your cv to info@inglishdesign.co.uk  We may not always have a vacancy but we are always keen to meet young cabinet makers and keep their details on file.
About Inglish Design bespoke kitchens, furniture and interiors in Harrogate
Making bespoke kitchens, bedrooms and furniture, Inglish Design has a reputation for being the best  cabinetmakers in Harrogate.  From the initial design, through manufacture to the installation we pride ourself on our high standards and eye for detail. Made to measure wardrobes, kitchens, and furniture for dining rooms and living areas are our speciality.  However, we have the design and cabinetmaking skills which allow us to make furniture and joinery solutions for all sorts of rooms and applications.
As the business has developed we have invested time in researching the best most durable finishes that we can offer our customers wanting bespoke kitchens, furniture and interiors in Harrogate .  Our handpainted kitchens highlight our skills and our hand oiled finishes show the true beauty of the timber, both are a popular choice with our customers. In addition we can offer spray painted finishes in matt or high gloss, and also lacquered finishes.  All of our bespoke kitchens, furniture and interiors in Harrogate are finished by hand either in our workshop or on location. We have a workshop and showroom near Harrogate  which displays our fabulous work, which can be viewed by appointment.
Inglish Design are also delighted to offer a full interior design service, details of which can be found on our Services page as well as bespoke kitchens, furniture and interiors in Harrogate.  This includes an upholstery service, a range of bespoke sofas, lighting, wall coverings and a full range of interior products which can be found on our Inglish Design Living page. This interior product portfolio is constantly extending to include further exclusive and bespoke options.
Have a browse through the Inglish Design PORTFOLIO or call us to arrange a visit to our Harrogate kitchen showroom. We are also featured in Houzz