David Beckhams Kitchen, the trend for dark painted kitchens !
David Beckhams Kitchen,  the trend for dark painted kitchens !
David Beckham gave a glimpse of his   dark hand painted kitchen in London yesterday. This is the latest trend for hand painted kitchens. Dark colours mixed with opulent coppers or gold accents is a key look. Dark tones: black, dark charcoal, navy, emerald green and even plum.  It will surprise you just how well dark kitchen cabinets can work, and even enhance a kitchen space with its dramatic and luxurious feel.
Dark kitchen cabinets portray full-on elegance and a deep rich luxurious atmosphere that the other options just cant match. They cast the kitchen in a subtle dramatic essence.   However, you have to be careful that it does not overpower the room, making it feel perpetually dark. Which is where lighting steps in, and also light coloured worktops. In 2017 we noticed homeowners  getting bolder and opting for kitchens with darker cabinet colours. And dark worktops have been overtaken by lighter colours, even white.
We have just updated our KITCHEN showroom near Harrogate to include  two  darker shades by Farrow and Ball – which look terrific. While a darker colour palette may not be the new white anytime soon, we certainly think it will get more popular with time – especially with a Beckham endorsement ! So watch this space !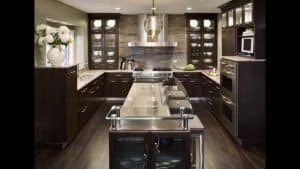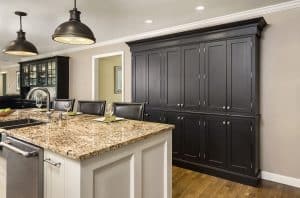 About Author
Comments are closed